Smart cards are integrated circuit (IC-based) devices that can be used for various electronic applications. These devices are used by connecting them to a smart card reader by physical or contactless connection. Smart cards equipped with IC chips that can hold more information as compared to the traditional magnetic strip and bar code cards. This enables better security features making cloning and other misuse of smart cards difficult. Due to better security over traditional cards, the demand for smart cards is expected to continue accelerating in the coming years. Smart cards are already being used across various applications including payment (credit/debit cards), telecommunication, ID cards and others.
Due to rising fraudulent activities in the healthcare sector, it becomes essential for the governments as well as healthcare insurance companies to build a secure medical information infrastructure. Smart cards are highly secure and offer various benefits such as reduced overall medical record maintenance costs, reliability, better admission process and significant curb on the fraudulent activities. Smart cards are capable of operating on the existing infrastructure (e.g. magnetic strip cards) which makes them cost-effective for healthcare organizations equally. Due to these factors, the healthcare smart cards market is expected to witness high growth in the coming years.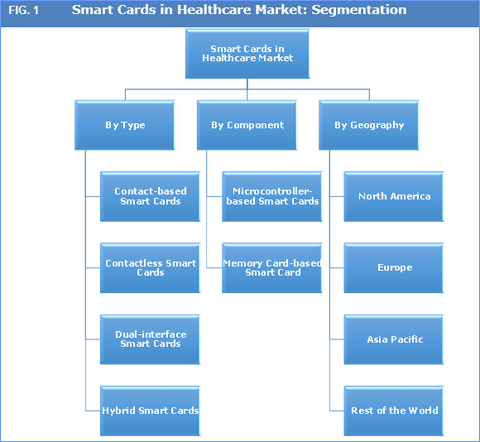 The report titled "Global Smart Cards in Healthcare Market- Growth, Share, Opportunities and Competitive Analysis, 2015 – 2022" offers strategic insights into the global smart cards market along with the market size and estimates for the duration 2013 to 2022. The said research study covers in-depth analysis of multiple market segments based on types, components and cross-sectional study across different geographies specific to the healthcare industry. The study covers the comparative analysis of different segments for the years 2014 & 2022. The report also provides a prolific view on market dynamics such as market drivers, restraints and opportunities.
In order to help strategic decision makers, the report also includes competitive profiling of the leading smart cards system vendors, their SCOT (Strength, Challenges, Opportunities and Weaknesses) analysis, market positioning and key developments. Some of the major players profiled in the report are Giesecke & Devrient (G&D) GmbH, Gemalto NV, Oberthur Technologies, Infineon Technologies AG, NXP Semiconductors NV, Atos SE, INSIDE Secure SA, CardLogix Corporation, American Express Company and others. Other in-depth analysis provided in the report includes:
Current and future market trends to justify the forthcoming attractive markets within the smart cards industry
Market fuelers, market impediments, and their impact on the market growth
In-depth competitive environment analysis
Trailing 2-Year market size data (2013 – 2014)
SRC (Segment-Region-Country) Analysis
Overall, the research study provides a holistic view of the global smart cards systems market, offering market size and estimates for the period from 2015 to 2022, keeping in mind the above mentioned factors.