Industry Outlook
Smart coatings market value is projected to witness the double-digit growth of 20.5% over the forecast period from 2018 to 2026. Smart coatings are made of unique coating materials with pre-defined properties that external stimuli such as electric current, light, and pressure to display different properties. Smart coatings can be customized according to consumers' varying requirements, as there are no set norms for smart coatings, nanomaterial used, and its intrinsic properties. Smart coatings have been addressing key unmet needs and gaps in various end-use industries that include automotive & transportation, building & construction, consumer electronics, marine, aerospace & defense, and others (consumer goods, energy, etc.). Increasing demand for smart coatings from these end-use industries owing to advanced properties is the major factor driving the market growth. These coatings are multifunctional; provide added performance beyond fundamental protection and beautification, unlike conventional coatings. Smart coatings incorporate microcapsules and other compounds that are mixed with the paint at the time of application. Microcapsules inculcate the coating with special properties such as anti-corrosion, anti-microbial, self-cleaning, self-healing, etc. These special properties help in restoring structures' optimum operating conditions, increasing safety, and reducing maintenance costs. Smart coatings also offer reduced volatile organic compound (VOC) and formaldehyde free that help save energy and reduce greenhouse gas emissions.
Smart coatings are finding new applications in several industries. For instance, U.S. Govt. using the smart coating for camouflage, bioweapon detection and destruction, and other safety application. Camouflage coating makes the surface invisible by displaying an image of the vehicle's surroundings on the surface. In electronic industry, smart coatings and Internet of Things (IoT) will be a perfect fit. Currently,smart coatings complement sensors in IoT. However, some stimuli-responsive coatings can directly act as a sensor, which is a cost-effective alternative to create a sensing panel than installing a large number of sensing devices.
The fact that smart coatings offers high performance that extend products life and reduces maintenance cost, enhances energy efficiency, environment friendly, and suitable for new and lightweight materials like composites and aluminum. The methods of coating application and cure program currently available in the target market; the environmental, health, and safety regulations pertaining to the targeted end use markets; and cost constraints are few aspects that may hamper the growth of the market in the near future.
Market Synopsis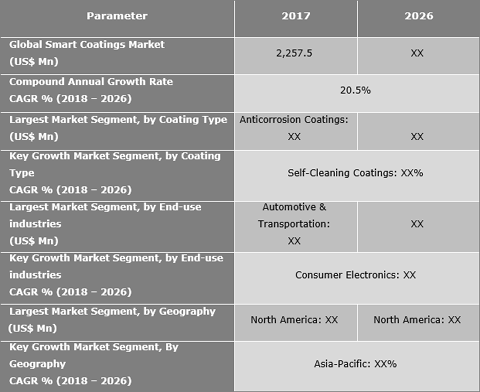 Get a sample copy for more information
"High Demand from Automotive & Construction Industry makes Anti-Corrosion Coating Dominant Sub-segment"
In 2017, anti-corrosion coating accounted for the major market share and expected to maintain its dominance over the forecast period. Anti-corrosion coatings are suitable for most of the structural metals, provides long-lasting corrosion protection, and adherence to health, environmental, and safety standards. Anti-corrosion smart coating requires low maintenance, materials, labor, and less physical preparation of the metal surface due to their self-healing properties. Anti-corrosion smart coating finds its application in engine components, suspensions, door closures, lock parts, fasteners, exhausts, body hardware, clamps & hose connections, etc.
The self-cleaning coating is projected to grow with the fastest CAGR during the forecast period. Self-cleaning coating applications are increasing owing to on-going innovation and improvement in the performance of existing products. Also, increasing demand for self-cleaning coating from non-glass substrates such as aluminum siding, tile, and textiles is another major factor driving the segment growth.
Get a sample copy for more information
"Consumer Electronics Projected to Show Robust Growth during the Forecast Period"
Smart coatings are used in various end-use industries, such as automotive & transportation, building & construction, aerospace & defense, marine, and others. The automotive & transportation end-use industry is estimated to account for the largest share of the Smart Coatings market in 2017, in terms of volume and value, because of the higher demand for smart coatings enhance the body life by limiting the damage caused by corrosion and lower down maintenance costs.
The consumer electronics end-use industry is estimated to register the highest CAGR during the forecast period. The Internet-of-Things (IoT) technology has increased the commercial potential for smart coatings in the electronics sector. A smart coating that can also be a sensor will be more cost-effective way to create a wide-area sensing panel than a large array of sensing devices.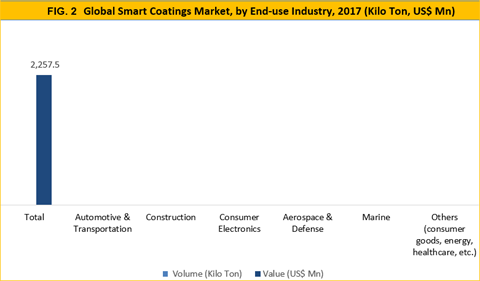 Get a sample copy for more information
"Rapid Demand for Smart Coatings in Asia Pacific Projected to Catapult the Market Growth"
Asia Pacific is poised to grow with the highest CAGR during the forecast period owing to growing middle class population, rising disposable income and purchasing power, and consistent growth in end-use industries. Moreover, fast-paced infrastructure development and the burgeoning manufacturing sector in China and India expected to bolster the global market. Demand for smart coatings from the APAC region is significantly high. China dominated the smart coatings market in the region owing to the continuous rise in production and consumption of smart coatings in the past five years. Country's automotive & transportation and marine sector has boosted the consumption growth in recent past. Other emerging economies, such as India, Japan, and Indonesia are also projected to register robust growth in the coming years. North America on the other hand, is the largest market in terms of value and volume consumption. U.S. accounted for majority share of smart coatings demand in North America. The U.S. government is actively investing in research program investigates smart coating potential application in different end-use industries such as aerospace & defense and automotive & transportation.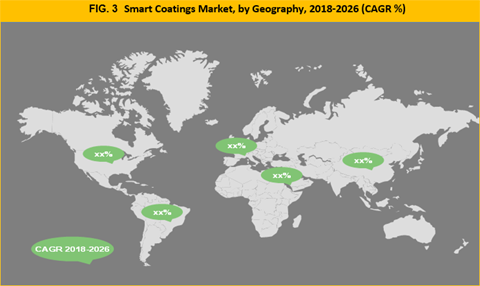 "New Product Development and Merger & Acquisition are Preferred Strategy of Key Players"
Smart coatings market is moderately consolidated market due to presence of large number of coating giants that includes The Sherwin-Williams Company (US), RPM International (US), Axalta Coatings Systems (US), AkzoNobel N.V. (Netherlands), Hempel A/S (Denmark), Jotun A/S (Norway), NEI Corporation (US), and PPG Industries (US). Companies are striving to strengthen their position in the highly competitive market through the diverse offering, investing in R&D, and consistent technological advancements. Various organic and inorganic growth strategies are adopted to enhance their current market share by the key players, the most preferred development strategy adopted by these players are new product development and merger & acquisition.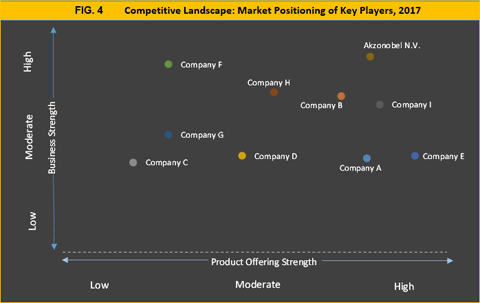 Historical & Forecast Period
Our study analyzed each market segment during the period of 2016 to 2026 with 2017 as the base year. Forecast period between 2018 and 2026 is considered for the CAGR calculation.
Report Scope
ATTRIBUTE
DETAILS
Research Period
2016-2026
Base Year
2017
Forecast Period
2018-2026
Historical Year
2016
Unit
USD Billion
Segmentation

Coating Type Segment (2016–2026; Kilo Ton, US$ Mn)
• Anti-corrosion
• Anti-microbial
• Self-cleaning
• Self-healing
• Others (self-dimming, color shifting, photovoltaic, piezoelectric, etc.)

End-use Industry (2016–2026; Kilo Ton, US$ Mn)
• Automotive & Transportation
• Construction
• Consumer Electronics
• Aerospace & Defense
• Marine
• Others (consumer goods, energy, healthcare, etc.)

Geography Segment (2016–2026; Kilo Ton, US$ Mn)
• North America (U.S., Canada)
• Europe (U.K., Germany, France, Rest of Europe)
• Asia Pacific (Japan, China, India, Rest of APAC)
• Latin America (Brazil, Mexico, Rest of Latin America)
• Middle East and Africa (GCC, Rest of MEA)
This research report describes leading continents and their major countries, along with profiles of key players operating in overall market and their planned developments. Our report further defines the overall market dynamics such as drivers, challenges, and opportunities prevalent in the market to understand global Smart Coatings market more explicitly. Our in-depth segmentation analysis up to country level highlights revenue pockets and investment opportunities in the market. Key players profiled include The Sherwin-Williams Company (US), RPM International (US), Axalta Coatings Systems (US), AkzoNobel N.V. (Netherlands), Hempel A/S (Denmark), Jotun A/S (Norway), NEI Corporation (US), and PPG Industries (US).
Key questions answered in this report
What are the current market trends in the Smart Coatings market and valuable opportunities for the players?
How the governmental laws affect the global as well as the regional markets?
Which are the prominent technologies and recent innovations in the market?
Which is the most successful business model implemented in the market?
Which is the most lucrative region for investment?
What is the market size and trends in emerging markets?
Which are the prime end-use industries of Smart Coatings across different geographies?
Which are the major types of smart coatings and their market sizes?
Which are the leading players and their market position?