Industry Outlook
Human race is facing a monstrous issue of water scarcity and water treatment plant is one of the few ways out of this calamity humans have brought onto themselves. Setting up water treatment plants allow some amount of wastewater to be used again for essential and lifesaving application. Nations worldwide recognized the power of water treatment process and multiple water treatment plants are being installed globally to metigate growing impact of water scarcity and global warming. Owing to such realizations global water treatment equipment market marked its market value of US$ 51.05 Bn in 2017. Based on the detailed analysis and considering various influencing factors the market estimated to continue its ascent to register US$ 86.98 Bn in 2026 accelerating with a growth rate of 6.1% throughout the forecast period from 2018 to 2026.
Market Synopsis
Get a sample copy for more information
"Membrane Equipment Trying to Dethrone Conventional Filter Equipment from its Pinnacle Position"
In 2017, conventional filteration equiment claims maximum share in the global water treatment market as these equipment are extensively used across several end-use application and especially in industrial manufacturing. Stringent government regulation and growing pressure from environmental organizations encouraged industrial manufacturing and processing sectors to incorporate conevntional filter equipment for treating water. However, membrane treatment processes such as reverse osmosis, microfiltration, and ultrafiltration expected to gain momentum over conventional filter equipment in coming years. Desalination of sea water for drinking and municipal end-user are one of the biggest driver for membrane equipment to grow as the fastest growing segment in coming years.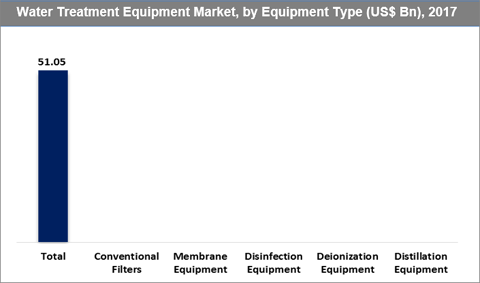 Get a sample copy for more information
"Industrial Manufacturing by far the Best among Other Water Treatment Equipment End-user in Terms of Market Value"
Industrial manufacturing end-user across several nations have to abide by stringent regulation for treating water before discarding it. Consequently, industrial manufacturing are the top consumers for water treatment equipment and segment projected to reach new heights with rapid industrialization. Municipal end-user also plays a vital part in overall water treatment equipment market. Municipal organizations use water treatment equipment for treating waste water and use that water for various other application lying under their jurisdiction. Power Generation in another major segment projected to witness considerable growth with the rapid adoption of renewable energy sources in coming years.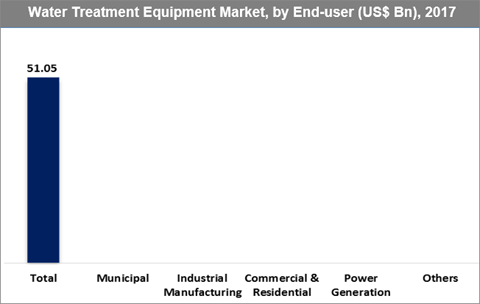 Get a sample copy for more information
"North America Representing an Example for Other Regions in Race of Overall Water Treatment Equipement Market"
With more than 25% of global share, North America leads the overall water treatment equipment market. Countries in North America adopted a very positive approach in utilizing the precious water resources. The countries are witnessing growing awareness towards water treatment and are observing regulations religiously. However, Asia Pacific is all set to steal to show owing to its rapidly developing urban economies and industrial sectors across different countries. These countries are also framing their regulation for water safety and treatment and would be representing the most attractive geographical segment for the water treatment equipment market in coming years.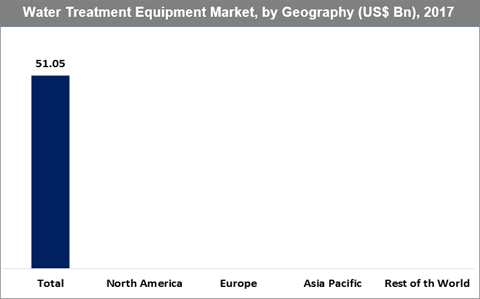 Market Segmentation
ATTRIBUTE
DETAILS
Research Period
2016-2026
Base Year
2017
Forecast Period
2018-2026
Historical Year
2016
Unit
USD Billion
Segmentation

By Equipment Type (2016–2026; US$ Bn)
• Conventional Filter
• Membrane Equipment
• Disinfection Equipment
• Deionization Equipment
• Distillation Equipment

By End-user (2016–2026; US$ Bn)
• Municipal
• Industrial Manufacturing
• Commercial & Residential
• Power Generation
• Other (Agriculture, Mining, Refining, etc.)

Geography Segment (2016–2026; US$ Bn)
• North America (U.S. and Canada)
• Europe (U.K., Germany, France, and Rest of Europe)
• Asia Pacific (Japan, China, India, and Rest of Asia Pacific)
• Rest of World (Middle East & Africa (MEA), Latin America)
"Global Leader Face-off Breath Stealing Competition on Global Water Equipment Treatment Market Front"
From small local players to giants in water treatment market, all companies are gearing up to face intense competition with each other in this highly, fragmented market. The companies are in a race to upgrade their technology, product portfolio and services to claim their market share. Long term agreements with municipal organizations and manufacturing industries to provide hardware and services is one of the prime strategy adopted by these companies. Besides, extending their geographic reach and capturing market position in lucrative markets such as Asia Pacific is also part of their business development. The road for market leaders expected to be more difficult with local players playing claiming their sharre in new markets. The research study include business strategies and recent development of few of the most prominent players in water treatment equipment market includes Danaher Corporation, General Electric, Pentair Limited, Parker-Hannifin Corporation, Siemens AG, 3M Company, Veolia Environnement, Xylem Incorporated, Doosan Heavy Industries and Construction, Dow Chemical among others.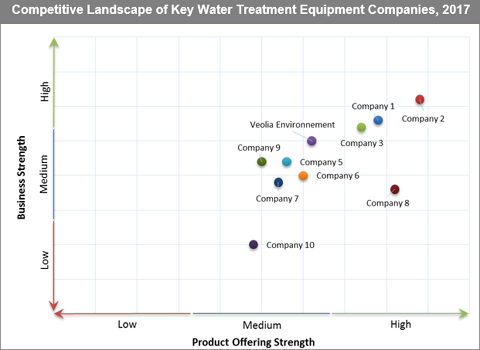 Key questions answered in this report
What are the latest trends in the water treatment equipment market and potential opportunities for the players?
How government regulation and strategies for water safety and wastage will affect the global as well as regional water treatment equipment market?
Which are the largest and fastest growing segment in terms of equipment type, and end-user?
Which is the most attractive geographical region/country for overall water treatment equipment market?
How will evolving filteration and treatment technology play a vital role in overall water treatment equipment market in coming years?
What is the market size and trends in developing regions such as Asia Pacific, Middle East & Africa, and Latin America?