Industry Outlook
The development in post treatment methods and services is a prime factor shaping the trends in the global wheelchairs market. Post-treatment regimens in neonatal and pediatric care, critical care, geriatric care and intensive care require continuous monitoring of patients that are unable to move themselves. Such patients therefore are ideal groups for assistive movement aids, thus driving the demand for mobility products such as wheelchairs and mobility scooters. Corresponding to the patient needs the opted wheelchairs may be manual, electric/powered or mobility scooters. Growing senescent population, increased life expectancy and growing awareness among the patient population towards wellbeing and not losing out on the conventional life are the other prime factors supporting the market growth.
Automation of manual wheelchairs is a key trend observed in this market, which in turn is increasing the market size. As technologies are expanding in their reach and complexity, more and more automated mobility products are being introduced in the market that can be efficiently operated with minimal intervention and effort. Swift adoption of automated mobility products is being noticed in developed markets of North America, Europe and Japan. The global wheelchairs market is anticipated to witness a healthy growth of 14% CAGR during the forecast period from 2018-2026.
Market Synopsis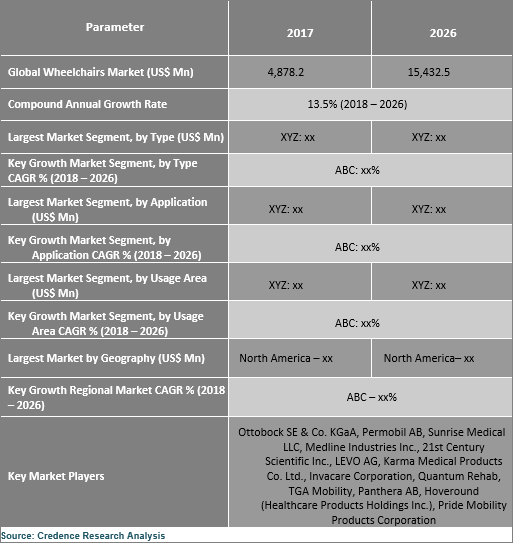 Get a sample copy for more information
"General purpose wheelchairs have the largest demand worldwide"
Based on the product types, the global wheelchairs market is categorized into general purpose wheelchairs, power wheelchairs, manual sports wheelchairs, and mobility scooters. Among these, the general purpose wheelchairs dominate the global market in terms of both volume and value, followed by power wheelchairs. Higher volume and widespread use in hospitals and healthcare institutions along with domestic usage forms the key factor supporting the dominance of this segment. Power wheelchairs segment shall be advancing at rapid pace during the forecast period. Technological evolution in the field of automated mobility, growing awareness and increasing initiatives towards facilitating competitive prices of these products have assisted in growing demand for these wheelchairs for domestic purposes.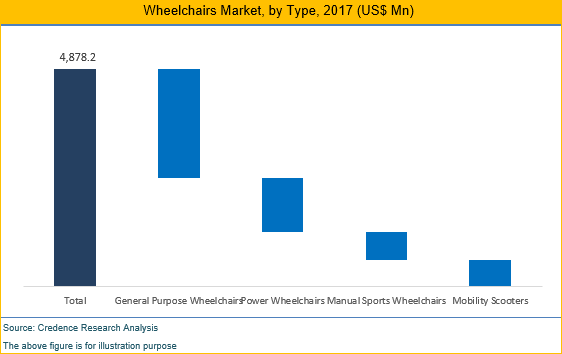 Get a sample copy for more information
"Sports utility application to pick pace during the forecast period"
In terms of revenue, standard transport wheelchairs currently occupy larger share in the global market due to their wider applications across all usage areas. Additionally, sports utility is anticipated to be the fastest progressing application area in the wheelchairs market. The wheelchairs used in this application are lightweight and are so designed to move the center of gravity to enable higher mobility and stability than the general purpose counterparts. Some prime applications in this segment are specific sports such as basketball, racing, rugby, racquet sports and so on. Improving rehabilitation programs and growing initiatives by support groups and governments to bring the disabled population into the mainstream by improving their quality of life are attributed to the significant pace of this segment.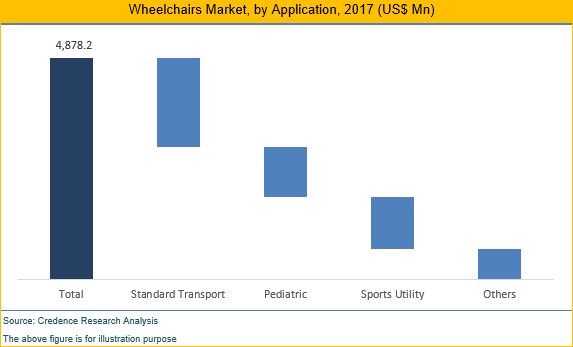 Get a sample copy for more information
"Hospitals and clinics are the largest market for general purpose wheelchairs"
Wheelchairs are imperative for operation in any healthcare setting. This makes hospitals and clinics the largest usage area for wheelchairs, especially the general purpose product variants. Recovering patients, and patients undergoing ambulatory procedures are the prime individuals transported with wheelchairs between departments and to and from the institution. As the global geriatric population is growing, their influx in assisted living facilities is correspondingly growing. Musculoskeletal weakness is a prominently witnessed condition in this group, thus restricting their movements. The demand for power wheelchairs is high in such groups. Furthermore, mobility scooters for general transport is greater in high income groups and obese populations in the developed regions where the prevalence of obesity is significantly high, paired with better purchasing powers.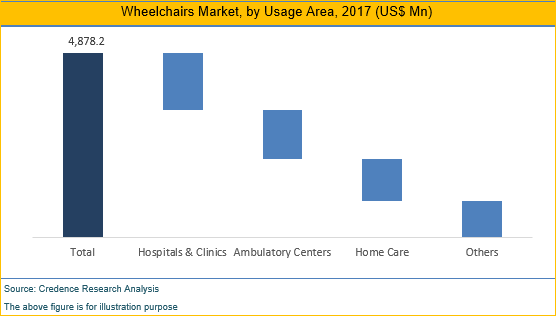 "Asia Pacific to witness rapid market growth during the forecast period, mainly due to growing patient pool"
North America houses over 150 manufacturers of wheelchairs, therefore characterizing the fragmented market in the region. The uptake of wheelchairs in North America, especially the high prices and power variants is also significantly high, therefore making North America the largest regional market. Several specialized manufacturers in the region are focused on introducing wheelchairs decked with technologies such as smart sensors for understanding the surroundings, global positioning, and software for better wheelchair functioning. Major players in North America and Europe are also intensively penetrating the high growth Asia Pacific market. Asia Pacific is home to the largest population base, with the pool of geriatrics consistently rising. Moreover the prevalence of debilitating NCDs and musculoskeletal conditions is also perpetually growing in the region. Countries such as Japan, China and India are viewed as the most prominent markets for wheelchairs in Asia Pacific.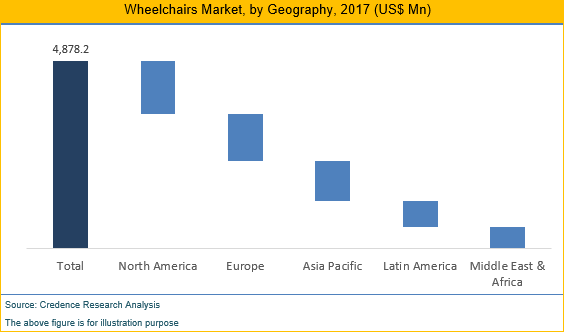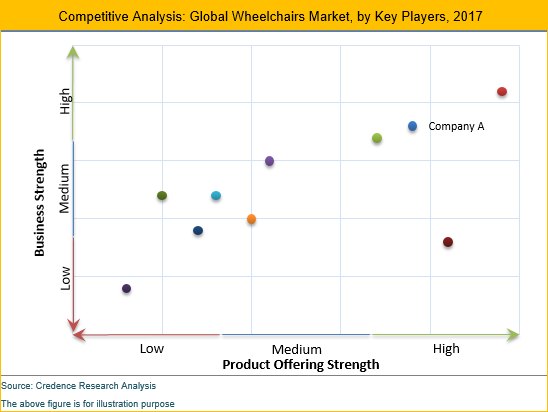 Historical & Forecast Period
This research report presents the analysis of each considered segment for the period from 2016 to 2026, having 2017 as the base year for estimations. Compounded annual growth rates (CAGRs) for each segment are calculated for the forecast period from 2018 to 2026.
Report Scope by Segments
The wheelchairs market report provides quantitative assessment of the industry terms of current and forecasted market size, while also presenting the market dynamics. This market is segmented based on types, and geography.
ATTRIBUTE
DETAILS
Research Period
2016-2026
Base Year
2017
Forecast Period
2018-2026
Historical Year
2016
Unit
USD Million
Segmentation

By Type (2016–2026; US$ Mn)
• General Purpose Wheelchairs
• Power Wheelchairs
• Manual Sports Wheelchairs
• Mobility Scooters

By Application (2016–2026; US$ Mn)
• Standard Transport
• Pediatric
• Sports Utility
• Others

By Usage Area (2016–2026; US$ Mn)
• Hospitals & Clinics
• Ambulatory Centers
• Home Care
• Others

Geography Segment (2016–2026; US$ Mn)
• North America (U.S., Canada)
• Europe (U.K., Germany, Italy, France, Spain, Russia, Rest of Europe)
• Asia Pacific (China, Japan, India, Australia, Rest of APAC)
• Latin America (Brazil, Mexico, Argentina, Rest of Latin America)
• Middle East and Africa (GCC, Rest of Middle East and Africa)
This report also includes company profiles section that gives insights on the company overview, product portfolio, financial information and key developments of major market players. The major players profiled in this report include Ottobock SE & Co. KGaA, Permobil AB, Sunrise Medical LLC, Medline Industries Inc., 21st Century Scientific Inc., LEVO AG, Karma Medical Products Co. Ltd., Invacare Corporation, Quantum Rehab, TGA Mobility, Panthera AB, Hoveround (Healthcare Products Holdings Inc.) and Pride Mobility Products Corporation.
Key questions answered in this report
What is the global market size for wheelchairs at the base year 2017, and where the market is anticipated to reach at 2026?
At what CAGR will the market progress during the forecast period 2018 to 2026?
Is the dominance of general purpose wheelchairs be challenged by the progress of power wheelchairs?
What are the prime factors that support the swift growth of Asia Pacific market?
What are the major strategies employed by the market players, given the fragmented nature of the market?