Diabetes is a medical condition caused by insulin levels in the body. Patients suffering for diabetes are more susceptible to develop wounds, ulcers or lack of sensation in the feet. Diabetic footwear has evolved as a medical revolution as it aids in preventing the feet from developing any injuries or wounds with the help of its unique and therapeutic properties.
According to the World Health Organization (WHO), in 1980, the number of people with diabetes was 108 million and reached 422 million in 2014. The proper use of diabetic footwear for various diabetic complications such as improper circulation of lower limbs and peripheral neuropathy has resulted in curing various foot ulcers and other foot and toe related problems.
The global diabetic footwear market is mainly driven by the rising prevalence of diabetes worldwide, rise in spending on diabetes treatment and growing geriatric population, who frequently suffer from diabetic conditions.
Diabetic footwear are premium priced; thus, cost factor has been a major factor restraining the growth of the diabetic footwear market. Key factors affecting prices of diabetic footwear include cost intensive marketing and distribution, high and volatile prices of key raw materials, and labor intensive production process. Thus, the consumer falling in medium and low income category stick to medicinal and alternative treatments instead of diabetic shoes.
Owing to rapid growth in the aging population coupled with improving standard of living and growth in disposable income has boosted demand for diabetic footwear in Asia Pacific in the last few years. In addition, rise in population of diabetic patients, and availability of cheaper products from domestic and local manufacturers is also contributing towards market growth.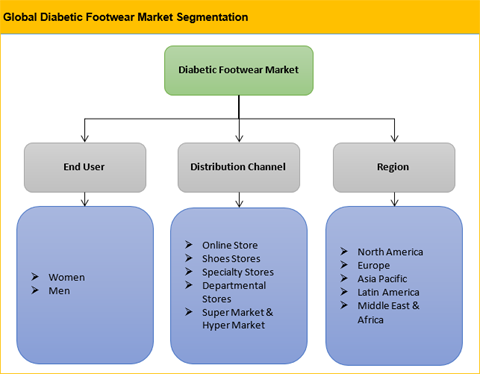 The report titled "Global Diabetic Footwear Market - Growth, Future Prospects, and Competitive Analysis, 2017 – 2025" offers strategic insights into the global diabetic footwear market along with the market size and estimates for the duration 2015 to 2025. The said research study covers in-depth analysis of multiple market segments based on end user, distribution channel and cross-sectional study across different geographies. The report provides a prolific view on market dynamics such as market drivers, restraints and opportunities.
In-depth analysis provided in the report includes:
Current and future market trends to justify the forthcoming attractive markets within the diabetic footwear industry
Market fuelers, market impediments, and their impact on the market growth
In-depth competitive environment analysis
Trailing 2-Year market size data (2015 – 2016)
SRC (Segment-Region-Country) Analysis
Overall, the research study provides a holistic view of the global diabetic footwear market, offering market size and estimates for the period from 2015 to 2025, keeping in mind the above mentioned factors.
---
Related Reports Published on Credence Research
☛ Footwear Market By Material (Athletic, Non-Athletic Footwear), By Material (Plastic, Synthetic Rubber, Leather, Plant-Based, Others), By Distribution Channel (Hypermarkets, Online Channels, Specialty Stores, Others), By End-user (Men, Women, Kids) - Growth, Future Prospects & Competitive Analysis, 2018 – 2026
☛ Athletic Footwear Market By Product Type (Running And Walking Shoes, Aerobics/Gym Shoes, Hiking And Trekking Boots And Shoes, Specialty Shoes, Others), By Price-based (Premium, Mid, Economy), By Consumer Group (Men, Women, Kids), By Distribution Channel (Departmental Stores, Hypermarkets & Supermarkets, Online Retail, Specialty Stores, Sports Stores, Others) - Growth, Future Prospects & Competitive Analysis, 2018 – 2026