Industry Outlook
Growing health awareness, increasing orthopedic surgeries performed worldwide, and growing indulgence in sports and athletic activities, and therefore sports injuries have resulted in higher demand for rehabilitation and feedback treatments. Higher incidence of sports injuries among the youth has registered an increase in physiotherapy and rehabilitation treatments. Some common sports injuries are plantar fasciitis, rotator cuff tear, sprains, strains and cartilage tears. Furthermore, the large pool of geriatric population worldwide is also reported to undergo surgeries for joint replacement and other, cartilage damage and musculoskeletal injuries. As reported by the International Osteoporosis Foundation, every year, osteoporosis causes more than 8.9 million fractures, it is also estimated that by 200, there shall be 310% increase in hip fractures in men and 240% increase in women from 1990.
Medical dynamometers are widely used as a part of rehabilitation treatments to the patients suffering from musculoskeletal injuries and disorders, and various surgeries. Medical dynamometers assist in reinstating the muscular and joint strength, while efficiently ensuring pain management and restoration of movements. Therefore, devices are often used for increasing the recovery speed from disorders characterized by acute and chronic pain.
Market Synopsis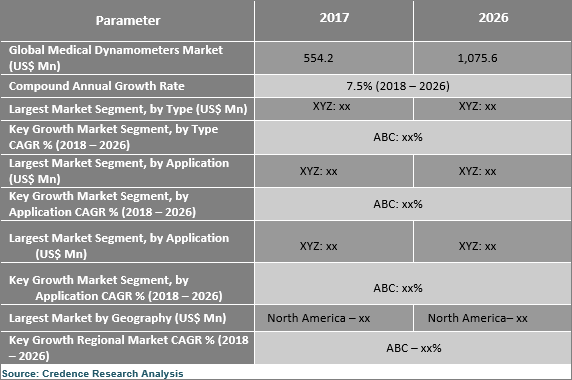 Get a sample copy for more information
"Hand dynamometers to be the largest product segment"
There is a wide range of dynamometers available in the market with the objective of treating different conditions or based on the mechanism of operation. However, in all the dynamometers, the thenar and hypothenar eminences are supported in the hind part of the handle, restricting the thumb action; while the rest of the fingers are involved at the front part of the handle. As described by the American Society of Hand Therapists, hand instruments are considered as the gold standard for documentation of the grip strength. Several studies have compared new and old tools with different transmission means and handle shapes. Higher incidence of hand and joint injuries also contribute to the greater demand for hand dynamometers.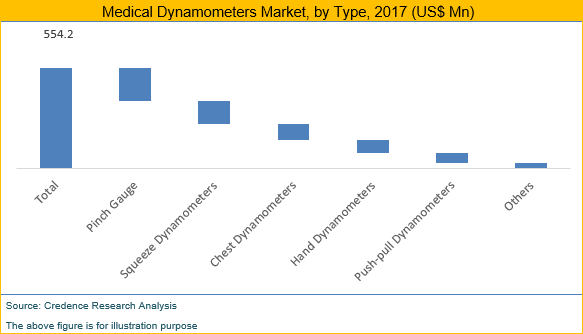 Get a sample copy for more information
Growing incidence of sports and age related injuries among the general population are the prime factors supporting the dominance of musculoskeletal segment in terms of applications. Moreover, these devices are also used in hospitals before and post orthopedic surgery to determine patient strength and therefore decide on the duration of hospital stay. Extensive literature has been available describing the relationship between grip strength and functional and clinical parameters in different populations. Therefore measurement of maximal grip strengths is a vital element of following orthopedic patients during aging, injury, rehabilitation, therapeutic trials and training. Dynamometers are therefore used in musculoskeletal patients to estimate the muscle strength generated by flexor muscles.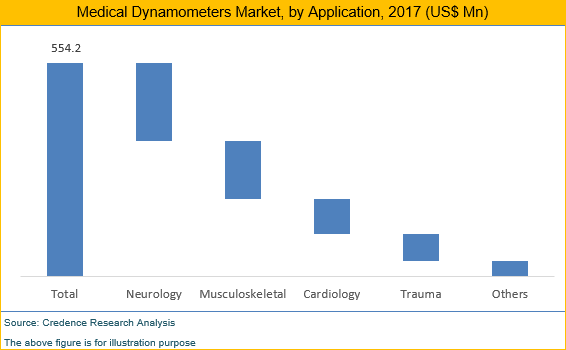 "Rehabilitation centers to register the fastest market growth"
In terms of revenue, hospitals and clinics is the largest usage area for medical dynamometers. Higher purchasing power, greater patient footfall, and higher awareness are some of the factors that support the dominance of hospitals segment. Additionally, the varied nature of incoming patients also makes the use of medical dynamometers imperative in hospitals. On the other hand, rehabilitation centers are anticipated to be the fastest progressing user segment during the forecast period. Factors such as decentralization of healthcare facilities, need for reducing hospital stays for containing costs have resulting in influx of patients to independent rehab centers and physiotherapy clinics.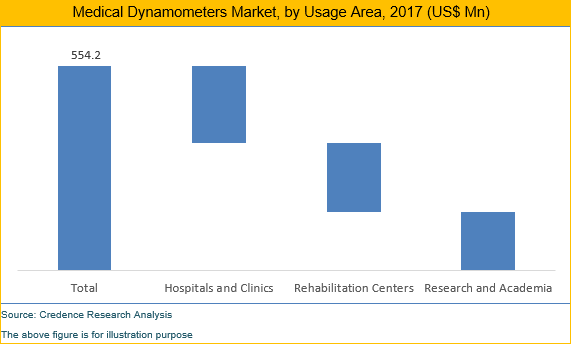 Get a sample copy for more information
"Larger disease incidence and awareness to support dominance of North America market"
In terms of regional demarcation, the global medical dynamometers market is categorized into North America, Europe, Asia Pacific, Latin America, and Middle East & Africa. Of these, North America holds command of the global market, and will retain its command with a marginal decrease in the market share, cannibalized by the emerging markets of Asia Pacific and Latin America. Large pool of individuals with sports and age related injuries and widespread early phase diagnosis of tendon disorders and arthritis drive the market in North America. Asia Pacific, on the other hand, is anticipated to witness the fastest market growth during the forecast period. Consistently growing population, increasing life expectancy, and purchasing powers are the key attributes favoring the growth of Asia Pacific market.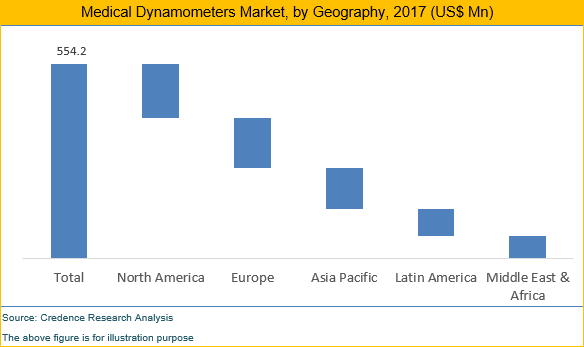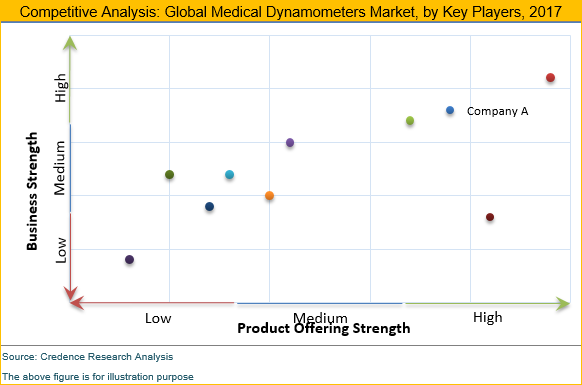 Historical & Forecast Period
This research report presents the analysis of each considered segment for the period from 2016 to 2026, having 2017 as the base year for estimations. Compounded annual growth rates (CAGRs) for each segment are calculated for the forecast period from 2018 to 2026.
Report Scope by Segments
The medical dynamometers market report provides quantitative assessment of the industry terms of current and forecasted market size, while also presenting the market dynamics. This market is segmented based on types, applications, usage area and geography.
ATTRIBUTE
DETAILS
Research Period
2016-2026
Base Year
2017
Forecast Period
2018-2026
Historical Year
2016
Unit
USD Million
Segmentation

By Type (2016–2026; US$ Mn)
• Pinch Gauge
• Squeeze Dynamometers
• Chest Dynamometers
• Hand Dynamometers
• Push-pull Dynamometers
• Others

By Application (2016–2026; US$ Mn)
• Neurology
• Musculoskeletal
• Cardiology
• Trauma
• Others

By Usage Area (2016–2026; US$ Mn)
• Hospitals and Clinics
• Rehabilitation Centers
• Research and Academia

Geography Segment (2016–2026; US$ Mn)
• North America (United States and Canada)
• Europe (U.K., Germany, Rest of Europe)
• Asia Pacific (China, Japan, Rest of Asia Pacific)
• Latin America (Brazil, Mexico, Rest of Latin America)
• Middle East and Africa (GCC, Rest of MEA)
Along with the market size in terms of US$ value, this report also includes market analysis in terms of qualitative information sets such as market drivers, challenges, opportunities, and so on. Market competition assessment factors such as attractive investment proposition, competitive landscape are also included in the report for further scrutiny of the industry. This report also includes company profiles section that gives insights on the company overview, product portfolio, financial information and key developments of major market players. The major players profiled in this report include KERN & SOHN GmbH, Charder Electronic Co, Ltd., Marsden Weighing Group, 3B Scientific, JTECH Medical Industries, Inc., Hausmann Industries, AliMed, Inc., JLW Instruments, North Coast Medical Inc. and Fabrication Enterprises, Inc.
Key questions answered in this report
What are the key market entry and sustenance strategies employed by the market players?
Which are the key zones of opportunities in the considered regional markets?
Which are the major competitive and financial positions of market players?
How is the market position of pinch gauge devices in the global medical dynamometers market?
Which application and usage areas currently hold the most prominent market position globally, and why?